Harrisonburg Virginia Corporate Suites

Harrisonburg Virginia Corporate Suites
20 Pleasant Hill Road
Harrisonburg, VA 22801
Phone: 540-432-7992
Or Use The Form At Right >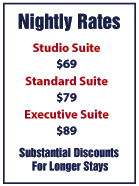 Harrisonburg is more than just the home of James Madison University. Sure, this world-class university is home to over 17,000 students and a NCAA Division I-AA National Football Championship team. And, of course, Affordable Corporate Suites is proud to house visiting guests, relocating professors and other academic friends. But we are just as proud of the engineers and technicians from Coors Brewing who stay. And the developers and staff of world-famous Rosetta Stone (the language-learning company) who make us their temporary home are wonderful. And we will treat you with the same hospitality when you stay.
Nestled in the heart of the Shenandoah Valley, our Harrisonburg location is great for Civil War buffs who visit many of the local historical sites or cave dwellers visiting Luray Caverns.
Located off South Main Street, less than a mile from downtown and campus, this quiet location is ideally situated at the edge of a wonderful residential neighborhood. The tree-lined property truly has a home-like quality.
Our fully furnished suites include all utilities, including HD cable with HBO, phone service and free high-speed Internet (both Ethernet and Wifi). Weekly housekeeping provides your towels and linens. The separate bedroom has a queen-sized bed and large closet. The kitchen has dishes and full-sized appliances. There are laundry facilities on site. All locations are smoke free.
Amenities:
More than just a room – everything you need to be productive or just kick back and relax.
Fully equipped kitchen with full-size appliances
HDTV with HBO and DVD player
Free local calls
High-speed Internet access and Wi-Fi
Weekly housekeeping with towels and linens
On-premise laundry facilities
Iron and full-sized ironing board
Utilities included
Free onsite parking
Smoke-free and pet-free
No minimum stay